The Hay Sweep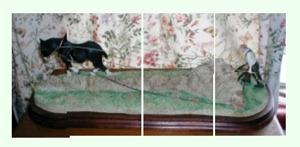 Now that the Museum site is resizable, the jigsaws no longer have the right co-ordinates to work. This is what the completed Tumbling Tommy (Tam) haysweep jigsaw looks like.
The wooden "Tumbling Tam" hay sweep was modelled by Ray Ayres for Border Fine Arts (see Links), from John Dodd and his family's farm at Sillywrea, Northumberland.
Avoiding the heavy spikes as they went head over heels wasn't easy. And on uneven ground there was another hazard: the points of the sweep could become embedded in a ridge in the field and would frequently snap off.
Charles Bowden, 2001: The Last Horsemen (Granada)