Why three ponies and not just one?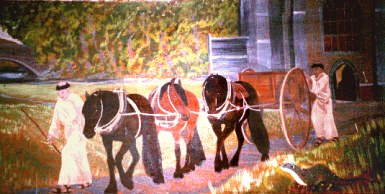 The cart and harnessing methods illustrated here are consistent with the Lutrell Psalter where ponies are shown harnessed in "randem" using rope traces and led by a man at the head of the leading pony. A large amount of power would be needed to pull a cart loaded with blocks of stone. The collars are fitted with carved wooden hames similar to those found on the Continent. The cart had no springs. It would only be useful in areas where the monks maintained level and firm roads.
Other tracks degenerated rapidly under pack traffic into hollow ways with deep mud in winter. "The routes used by the packhorse trains characteristically ascended steep valley sides in sharp zigzags, and spread out on the felltops, making diversions around boggy ground. Deep hollow-ways scar the slopes of Blease Fell and Uldale Head..." (Lambert).
---
Rakkers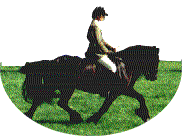 North country farmers are recorded in the 13th and 14th centuries as specialised in the breeding and training of Fell ponies which they sold to wealthy townsmen and gentry as suitable mounts for long journeys. A significant feature of these ponies was their economical long striding action, comfortable to ride for long distances as well as relatively fast. They are referred to in wills, records and inventories of the time as "rakkers" or "raks", a term used loosely to refer to riding animals of different types which moved at speed with each foot hitting the ground separately in turn. Some modern gaited horses such as American Saddlebreds are still described as doing a fast or slow "Rack" or "Singlefoot".
This does not necessarily imply that all the Fells were gaited, but that some of them were included in a group of animals that were comfortable to ride. In the north a "rakker" was an "easy-moving animal". ( ref )
After the defeat at Bannockburn—Robert the Bruce being at the height of his power—the King's advisers felt that such an important fortress as Brough Castle should be fortified by more powerful hands than Idonea de Clifford could manage to garrison it with. That it ought to dominate the Westmorland side of the great Stainmore Pass. Accordingly the king entrusted the castle to Robert de Welle, Knight, who was instructed to maintain 15 men-at-arms fully mailed and mounted on "covered war horses," and 20 hobelars or light lancers mounted on "hobby" or fell ponies. And to show the importance the government placed upon this, it was willing to grant the exceptional subsidy of placing 10 men-at-arms and 10 hobelars on the king's pay. (British History)
In the 12th Century, moneys paid for stock by the King were recorded in an annual Great Roll of the Exchequer: from which we know that in 1193/94/95, a foal was valued at 1 shilling, a brood mare at 5 shillings and a team of 8 oxen at £1 (2s and 6d each).
By the start of the 13th C a mare (breed unspecified) was worth 1 mark (13 s 4d) and a "palfrey" or comfortable pacing saddle horse 2 marks (£1 6s 8d). (ref)
We also know how much horseshoes cost, and that they were nailed on for use: when King John's treasury paid the bills for Lancaster Castle in 1209/1210, amongst the items were "1,900 horse shoes and nails at ½d each". (It seems probable that the cost was for "a shoe and its nails" as one item.)
Later writers reveal that the gaited horse was still valued for comfort up to the 17th Century although it was becoming rarer. Gervase Markham, perhaps best known in the horse world for his "Discource of Horsmanshippe: How to chuse, ride, traine, and diet, both hunting-horses and running horses", followed it in 1605 with a treatise on "How to trayne and teach horses to amble". (ref)