Transport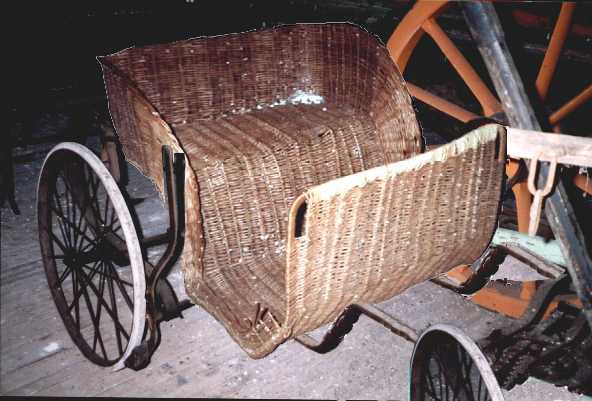 Motor cars arrived in Westmorland in 1903, and began to take over, but the horse was the mainstay of transport until the 1930s. For a few years during the Second World War, when petrol was "reserved", the horse staged a comeback. He could be transporting a prize bull in a bull cart, or bringing in hay from the fields in a cart with extra shelving, or carrying the farmer and his wife by pony trap to market and back.
There were still farms around Penrith in the 1960s where ploughing and winter feeding were done with horses, and shepherding done by Fell pony. My husband's first job on leaving college was on a farm like this, north of Penrith.
Today such farms are rare enough to merit books and television programs, and are often tourist attractions.
For the ladies and the elderly
This wicker pony "chaise" or chair is a 4 wheeled vehicle for a lady to drive. It is low enough for her to get in and out without trouble when wearing the long skirts of the period.
In 1877 Anna Sewell wrote about a small grey pony's duties in "Black Beauty":
"My name is Merrylegs: I am very handsome, I carry the young ladies on my back, and sometimes I take our mistress out in the low chair."
However, tradesmen often drove such vehicles, possibly when they were less than "springy" in the knees and found it hard to climb into taller vehicles. Miss Sewell describes Mr Sawyer, a builder, with such a turnout:
"....we met a powerful man driving towards us in a light pony chaise, with a beautiful little bay pony, with slender legs and a high-bred sensitive head and face......."