Crop Rotation in 1945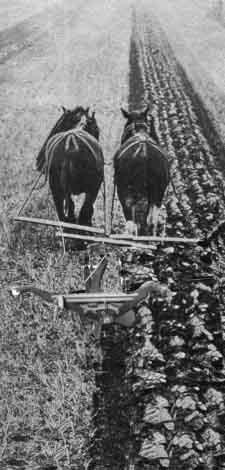 The "War Ag" compelled a great deal of English pasture land to go under the plough in the aftermath of the Second World War. Food was still in short supply and rationing was in force.
Photo, left: working view. One of the Museum's well preserved wooden ploughs has been added to a 1930s photo of a pair of Shires. (World of Wonder Magazine.)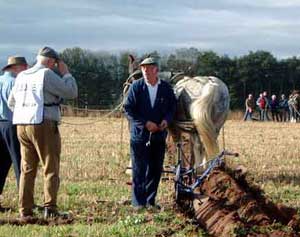 The rotation in South Cumbria was, to plough ley (pasture) and sow it with oats the first year. In the second year, it would be sown with turnips and with odd rows of mangels (for sheep), potatoes, carrots and cabbage that would be used for the farm house as well as sent for sale at market. Oats would be sown again in the third year, barley or wheat being unusual; and this final oat crop was undersown with grass to produce a pasture once the rotation ended.
The grass would remain as pasture until the land was wanted again, and that depended on how large the farm was. The pattern remained up to around 1955 although by then it was no longer compulsory.
Photo, right: the approach of one of the judges momentarily distracts Morris Jefferson from the setting out of his plot at the 2003 National Ploughing Championships (class: general purpose work). The plough is by Ransome.
Last Jobs for the Horse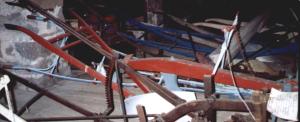 Photo, left: many different models of plough, both steel and wooden framed.
The last farm that David Trotter worked on before going self employed in 1956 was at Raven Winder, Flookburgh. Here, the "grey Fergie" - the Ferguson tractor - had taken over from the horses. Most of the equipment was being converted to run behind it. At Raven Winder there was still one horse, used for a few arable jobs, such as side hoeing or stitch harrowing.
The old ploughs were hardly used at all by that time; which is why so many were donated to the Museum.